Organic & Local SEO
(Search Engine Optimization)
Boost Website Traffic with Search Engine Optimization (SEO)
There is no "if you build it in the Wide Web world, they will come," even when it comes to your practice's websites. Many medical practice owners, such as dentists, plastic surgeons, and others, build a stellar website because they know it's essential, but their efforts stop there. Unfortunately, without the proper medical website SEO, that stellar website may be tough to find for prospective visitors.
"93% Of All Online Interactions Start With A Search Engine."
Get to Know SEO: A Basic Intro for Medical Practice Owners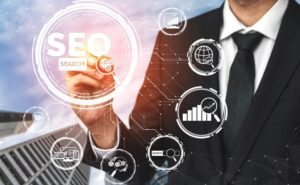 SEO is website optimization in the most basic terms. Search engines will naturally place the site listing higher on a SERP (search engine results page) with SEO. Search engines like Google, Yahoo, etc. site metrics and specific formulas to determine how relevant a website is to what a searcher is trying to find. Numerous factors affect how a search engine ranks a website, including:
Quality of content on the site
Effective keyword utilization
How long you established the domain
Quality interlinks or backlinks within the site pages and between your site and other sites
A well-optimized medical website will place higher on the SERP, which means it will naturally attract more traffic. Research released by Google shows that 75 percent of internet users never move beyond the first page of results.
Why Medical Website SEO Optimization Is Important?
Searching for information relative to health or medical topics is something 80 percent of people are using the internet do, and 83 percent of users research a service before they buy. Combine these two facts, and it gives you an essential tidbit of information as a medical website owner: Not only will prospective clients likely research you before they schedule an appointment, they may also expect you, as a medical service provider, to be offering valuable, reliable information.
Suppose your website is hard to find because of lacking medical website SEO. In that case, you're missing out on a massive opportunity to:
Attract new patients to your practice
Position yourself as a trustworthy, reliable medical service provider
Stay connected with existing patients and keep them.
Maintain Your SEO Optimization with a Good Strategy
Your SEO strategy should include a healthy mix of proven tactics.
1. Get local, get global, and get mobile.
The most discoverable and high-ranking medical websites have optimized their site using local SEO optimization so local patients can find them easily. However, it is just as crucial the site is well-designed for more global appeal with information many visitors would find useful. For instance, a dental practice website with a blog filled with helpful oral health articles will gain more global traction online. Another quick note, you must make sure you optimize your website mobile-friendly. More people are searching for information on mobile devices than anything.
2. Boost your SEO rankings with excellent content.
Contrary to popular opinion, website optimization is about far more than just keyword and keyphrase stuffing. You can stuff "plastic surgeon" into your content a hundred times in 300 words of text, and that doesn't necessarily mean search engines will rank your practice higher. Excellent content has well-implemented, natural-sounding keywords, and professionally curated written content. Also:
Consider utilizing videos for website optimization.
Make sure images are high-quality and tagged with keyword-rich titles and tags.
Build internal links within the website
3. Update SEO and content consistently.
Organic SEO optimization is never a once-and-done thing; search engine formulas for yielding the best results are continually evolving and getting tweaked to serve searchers better. Therefore, you have to do the same. Working with a professional team of SEO experts is one of the best ways to stay on top of your consistent upgrades and updates.
Ready to Get Your Site Noticed with Medical Website SEO?
When your primary focus is your patients, tending to medical website SEO can be the last thing on your to-do list, but with our help, that can change. Please feel free to reach out to us to find out more about SEO services and how we can help your website to rank higher and get the attention your practice deserves.